Winters Must Have By Arqs.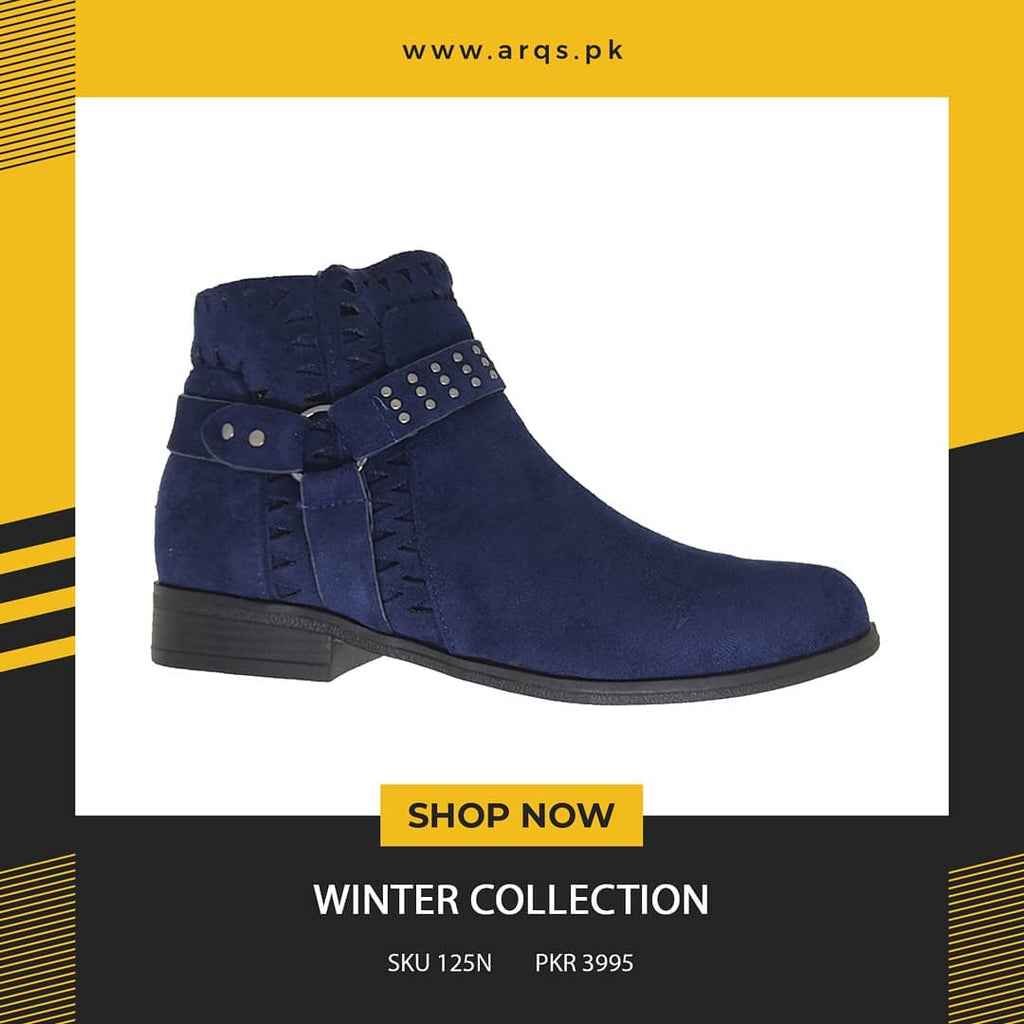 Sneakers
No matter what age you might be, sneakers are a winter requirement. Of course, you might be tempted to slip into your favourite pair of heels but that's just not practical at all. Try sneakers instead, they're sure to keep your feet well and truly cosy during these cold months. The best part about sneakers is that you can wear them with anything. They don't come in a set season or fashion; they're always in style and you can wear a fresh pair all day long. Sports Sneakers are another variation of sneakers. Available in a wide range of colours and designs, sports sneakers are the ideal shoe to opt for when you're looking for a kind of footwear that will work well for doing sports or for a morning walk.
Boots
We are sure you are familiar with this classic winter footwear choice. Boots are amazing in their ability to keep your feet warm while giving them a little bit of style. There are a wide variety of boots available in the market, each with its unique design, colour, and fabric so you get to pick just the one that you like.
Winter Boots
You probably already know them, but just in case, you'll want to get your hands on these! Warm, sturdy and stylish, winter boots are a terrific alternative to the conventional footwear when winter comes knocking at your door. Winter boots are the perfect choice if you're looking for something to keep your feet warm and still want them to look good as they carry you to and from work, to the mall and other such places. They are also easy to wear and come in a variety of colours, styles and designs. You'll find yourself wearing these daily, whether it's to trek through the snow or simply because you want to look stylish. You can choose from a variety of fashion statements with boots and leave behind boring, chunky boots. From knee-high to ankle-high, boots have a stylish variety of options for you to look chic for. This will also ensure that you never have to live in the monotony of the same kind of boots every single day.
Booties
A winter footwear must-have, booties are an easy way to update your outfit and complete your outfit in style. They come in a variety of styles and are a definite must-have. So, if you are wondering what winter footwear to buy this season, booties may just be the answer you've been looking for, so go get yourself a pair!
Oversized Boots
With the winters, come the cold and the snow. That can make for dreary days and gloomy weather. But then again, it can also bring about a plethora of opportunities for you and your style. This time of the year surely calls for oversized boots that will not only keep you warm but will also add some excitement to your outfit. Apart from that, it is also a great way to raise your feet from the cold and snow, so why not make use of it?

Snow Boots
You've never had a problem with boots, right? Then it's time you decide if you need a new pair of winter boots or not. These boots look very much like rain boots but have a thick rubber lining instead of the fabric lining that we see in the rain boot. These boots are suitable for extremely cold weather. Snow boots are great if you live in a place that gets snow like Murree or northern parts of Pakistan. Walking through the snow without a snow boot is an invitation for disaster. The most important thing about snow boots is the insulation quality. If you don't want your feet to freeze and become numb, the boots you choose should be very thick and well insulated. Snow boots are also known for their water resistance. If you are going to be walking around in the snow, chances are you will come into contact with a lot of snow and ice and the last thing you want is to fall in a puddle of melted snow.
Fur Boots
Now, fur on shoes? I know it doesn't sound very stylish but look at it this way, fur boots are a very practical way of keeping your toes warm. But, only those who love the feel of fur on their skin should go for it.
Ankle Boots
A great option for women of all heights, ankle boots are glamorous, stylish and the most comfortable kind of footwear you can find. They also make your legs look even longer, which is a win-win for any fashionista.
Military Shoes
A perennial favourite with women and men of all ages, combat or military boots have a classic style and give an edgy look to any outfit. There are many different varieties of combat boots to choose from but some of the most popular ones include the originals by Timberland.
Crocs
Here we have a rather unexpected choice... Crocs! Yes, you read it right. Invented by a guy named Leslie, these are rubber shoes that can withstand a lot of wear and tear. They are great for rough weather, as they are water-resistant and are super comfortable to walk in. They come in many different colours. Pair them with thick socks and let the magic begin!