Which Men's Shoes Go With Shorts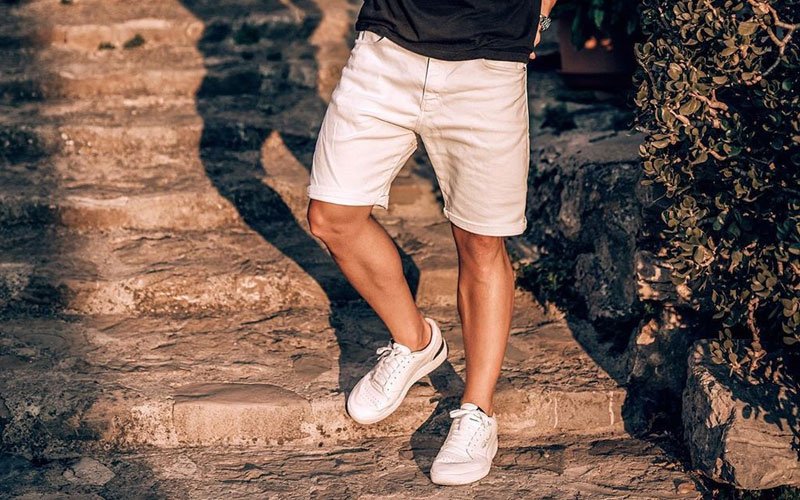 Shorts are cool and classy at the same time. The variety and comfort they offer are matchless. The best thing about them is that you don't have to try being cool. This is generally a plus point but if not worn with the right kind of shoes the vibe can die! And finding the perfect match is quite difficult for most men. One might think that shorts are all casual but casual clothes do have rules too. Choosing the perfect match is essential. We are here to offer our decades of experience to you.
SNEAKER
Yes, it is the perfect match. Street smart and fashionable in every sense Sneakers can be called the perfect bride for shorts. All cool guys own at least a pair of these devils. Everyone from Nike and Adidas to Converse has itself to offer. The market is big and the variety is huge. Even designers otherwise making formal shoes are also jumping on the show. Everyone wants to grab a piece, that's how hot the pie of sneakers is. Without any difference in what clothes you normally wear, these casuals will go in all seasons. Matched with a good pair of shorts they can make you look extremely cool effortlessly. The best thing about them is you can go to work in them too! Pair your shorts and sneakers with a Polo and move ahead of the crowd!
Brogues
A timeless masterpiece for modern men, brogues age like good wine. This unique shoe is worn around for both casual and formal events and settings. Famous for the perforated skin they normally come in open lacing and close lacing settings. All kinds of brogues can be worn with shorts. A good pair will effortlessly go on with any number of shorts in every design. Tailored shorts can be a good match for brogues. Another rule to follow is never to wear long socks. Always opt for ankle socks or just leave them all right. Wear a pair of sunglasses and rock the world.
Boat Shoes
They can be incredible if worn the right way. Bringing class to your outfit they are a comfy mix of a smart and casual look. Although mostly worn with Khakis, Boat Shoes can be paired with shorts too. Khaki shorts can be worn with boat shoes for outdoors while chino shorts are best for evenings. Best boat shoes are mostly neutral or dark in colour, as a variety can be worn with them.
Desert Boots
Desert Boots paired with good shorts and a well-tailored shirt can melt any lady away. Aesthetic in appeal and comfy in wear, these timeless classics are ideal for all times. Boots can be flashed around in both casual as well as formal events. The best type of shorts to wear with them are Khakis, as both colours complement each other. Although some might think boots look odd on shorts there's always a choice to like different. The rugged design coupled with chic is plain awesomeness waiting to be tapped.