Everything To Know About Heels.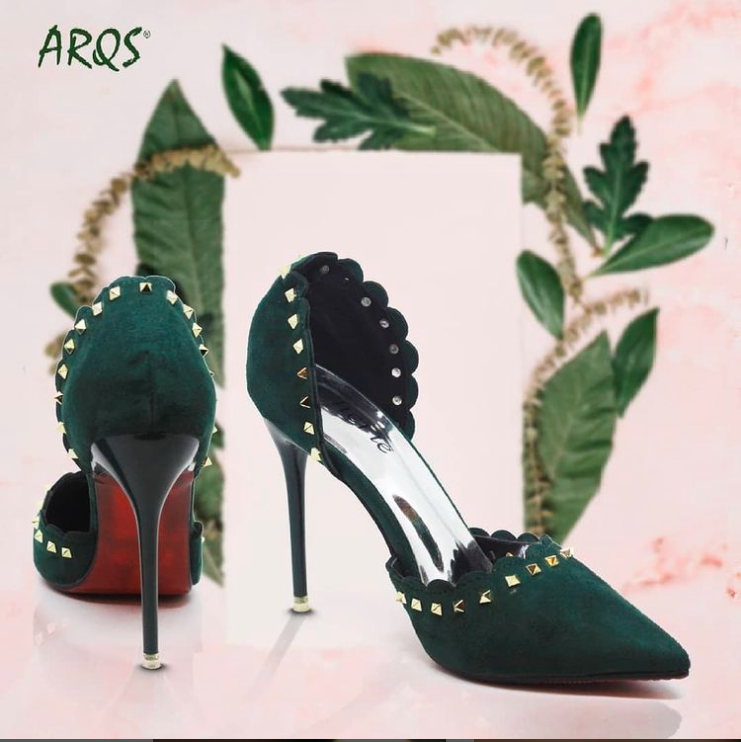 For most women, deciding to purchase a pair of designer high heels could mean the difference between a comfortable fit and blisters on your feet (and who wants to deal with that?). So, we thought it would be most helpful to you to go over the most important aspects you should consider when buying your next pair of designer high heels.
What Kind Of Heel Do I Need?
Before you can even think about height and width, you need to consider what kind of heel you're looking for. Many women have a favourite silhouette, but in our shop, you'll find everything from strappy sandals to sky-high platforms. The most important thing is to find the heel that makes you feel fabulous! Keep in mind, not every designer heel works for every woman, or occasion, so the key is finding what works for you! Here are a few different types of designer high heels that you can find.
You can also use this as a guide for when you're looking for your next pair of stilettos for your next formal event or your next night out with the girls.
How to Figure Out What Heel Height is Right for You?
Heel height is probably the most important factor when it comes to shopping for heels. Heels that are not in proportion to your body can look ungraceful and clunky. If you're short, then it would be important to stay away from high heels unless you want to appear even shorter (and not in a good way). But if you're tall and looking for a way to appear more proportionate, then why not try a somewhat higher heel?
To help you get started, browse our tips for what to look for in a pair of heels and our ultimate shoe guide. But first, let's start with the basics so you know what to look for when you're out and about shoe shopping or when you're browsing online.
These guidelines can give you a starting point for the amount of heel you are looking for and the style you are wanting to pull it off with! If you purchase a pair of heels that don't fit and aren't comfortable, you will be less likely to wear them. It is important to have your shoes professionally fitted. This is true for all shoes, but especially for high heels.
Our guidelines are based primarily on height, but some of them can be mixed up a bit. You can also use this as a starting point and make it your own by adding or subtracting a little height. For example, you can wear a 3" heel with a peep-toe or a 1.5" heel with a closed-toe. Just keep in mind that the bigger the shoe, the harder it will be to walk in and the more you need to practice.
How to Buy High Heels
So, first things first. What makes a heel "high"? The heel is considered "high" if the highest part of the shoe is at least 2 ½ inches. If the heel is any shorter than 2 ½ inches, then it's considered a low heel.
THE PURPOSE OF HIGH HEELS
There are quite a few types of heels, but the two main purposes of high heels are to create a more elongated and slender leg and to give the wearer more height.

MATERIAL
What kind of material do you want your heels to be made of? Keep in mind that some materials are easier to walk in or last longer than others.
EXAMPLES: Common materials include leather, suede, satin, patent, mesh, and fabric. The type of material typically affects the durability and longevity of your heels.
WHAT ARE THE HEELS MADE OF?
LEATHER: Leather is one of the most commonly used materials in the shoe industry, and it is typically high quality, which makes it a popular choice for many shoe designers. It is also a great option if you want the shoe to be water-resistant.
SATIN: Satin is a popular fabric used in high fashion and evening wear, and it is typically used to make designer high heels. Satin is more rigid and has more durability than other fabrics, so it tends to hold up better over time.
HEEL HEIGHTS
KITTEN HEELS WITH WEDGES (SHORT)
Wedge high heels are best for casual situations. They are a great option for ladies with wider feet, as they offer more stability. The wedge heel is also known as the Cuban heel because they were first popularized in Cuba in the 1950s. They've been making a comeback in the last few years, and I'm happy to see them!
WEDGE HEELS WITH PLATFORM (LONGER)
Wedge heels with the platform are the most common type of wedge and come in many different heights. Wedge heels are known for their versatility and comfort.
WEDGE HEELS (LONG)
Wedge heels can also be a single wedge, meaning that the heel is one solid piece of material, rather than two or three connected pieces. The single wedge heel is one of the most commonly worn heels. It is great.
HEEL TYPES
SLIDE BACK HEELS
Slide back heels are a great choice for the bride who wants something unique and special on her wedding day.
ANKLET STRAP
Just like the slingback, the anklet strap goes around only the heel. It doesn't wrap around the entire ankle, but it provides a similar look because it wraps around the Achilles heel. Like the slingback, this "half strap" gives off an elegant, classic vibe. It also tends to be dressier and fancier than other styles.
ANKLE STRAP WITH FANCY STITCHING
Ankle strap heels with fancy stitching are on trend with the "french" style heel. They have a bit more flair, and they tend to be more elaborate than other ankle strap heels. This carries over to the strap, which is stitched with a pretty pattern or a unique colour.
BACK STRAPS
These are similar to slingbacks, but they go around the entire back of the heel. Back straps are a lot more secure than slingbacks, and they offer a more stable fit. These heels can be difficult to walk in, however, so only invest in this style if you're a pro.
SANDAL HEELS
Sandal heels are a perfect blend of comfort and style, and they're a great option for spring or summer when you want to show off your pedicure. This can be a wedged heel, a mule, or a wedge sandal—but it's got a strap around the centre of the sole to give it that sandal vibe.
Sandal high heels are super popular right now, and they're a great way to spice up your attire.
SLIP ONS
Slip-on shoes have a flat, open topline that's similar to sandals. However, they have a heel that's attached to the sole of the shoe, so the top of the shoe is open. These heels are great if you're still new to heels. They're easy to take on and off, and they're a great style for an elegant night out.
AMOLLA
The amoeba heel is a rounded design that "puddles" around your foot. This is similar to a mule heel, but it has a more rounded look and feels to it. These heels tend to look like they're floating around your foot, and they have a more "everyday" look to them. The amoeba heel is easy to walk in, and it's a great choice if you're wanting to modernize your look.